News & Events for the OSUN Hubs: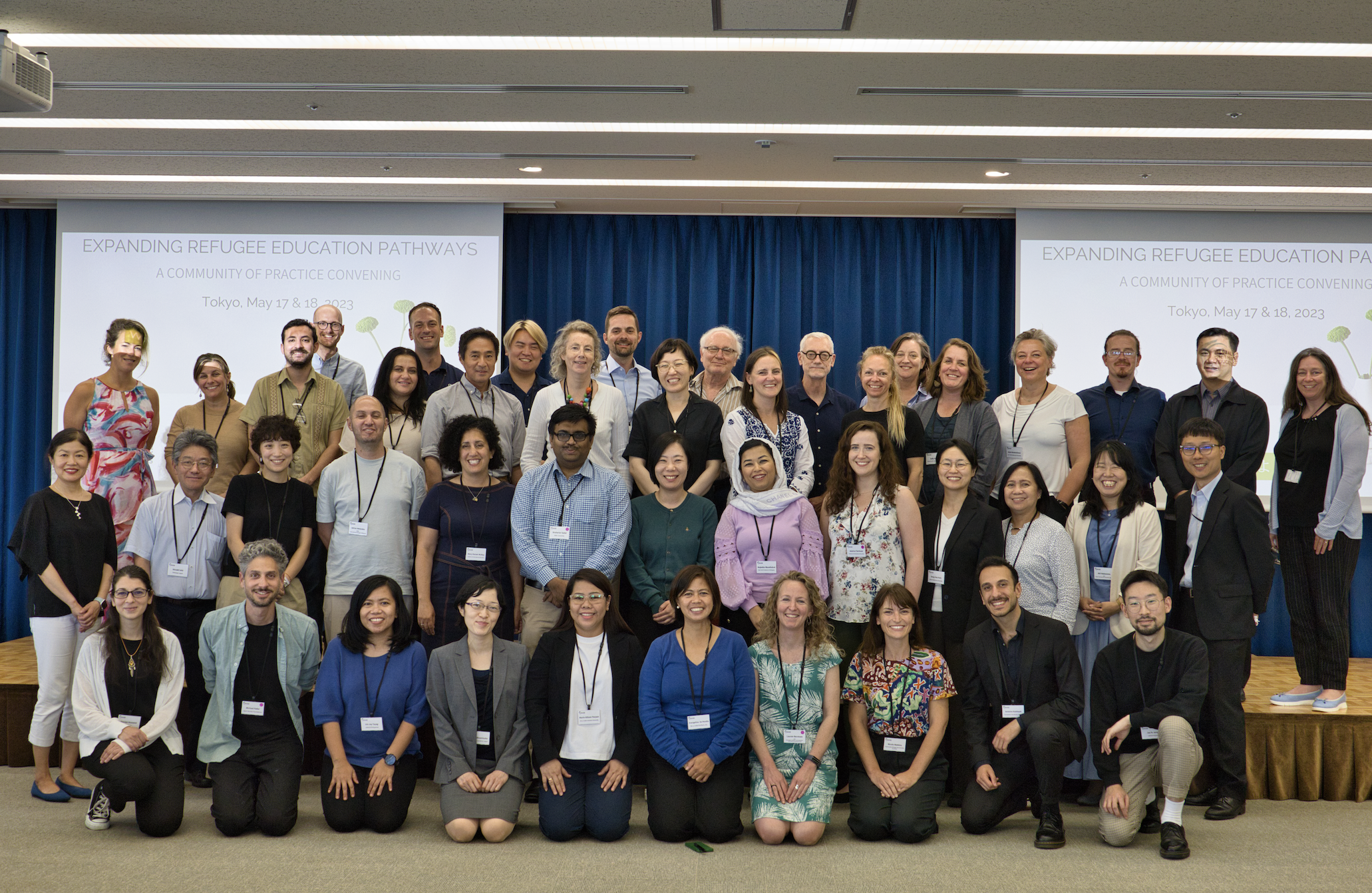 OSUN Hubs for Connected Learning Attends Global Task Force on Third Country Education Pathways Convening in Japan
The Global Task Force on Third Country Education Pathways, in collaboration with the Japan ICU Foundation (JICUF) Pathways Japan and Sophia University, held its second in-person Community of Practice Convening on "Expanding Refugee Education Pathways: A Community of Practice" in Tokyo in May.

Rebecca Granato, Director of the OSUN Hubs for Connected Learning Initiatives, a member of the Task Force, attended along with more than 50 other experts in the field of Refugee Education Pathways.
Participants from 20 countries who design and implement complementary education pathways met to reflect, discuss, and exchange best practices on topics related to the design, implementation, and integration of pathways programs. The meeting was also an opportunity to network and develop innovative ways to support the expansion of tertiary education as a means of complementary pathways.
At the convening, leadership of the Global Task Force on Third Country Education Pathways expressed thanks to its committed participants for successfully developing and scaling complementary education pathways over the past two years, efforts that will no doubt lead to effective outcomes in the years to come.

Learn more about the Hubs for Connected Learning Initiatives:

https://osunhubs.bard.edu/

2023/06/05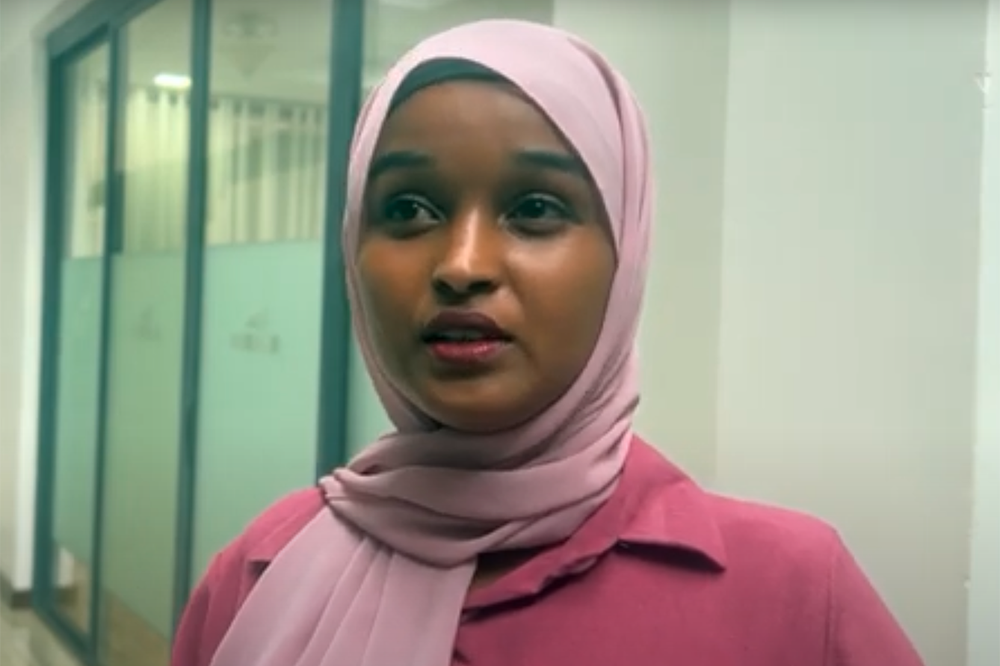 Building Capacities of Early Career Researchers in East Africa
"We now have the audacity to do research," said Natalina Ayang, a participant in the Rift Valley Institute (RVI) Research Community of Practice (RCoP) project that supports early career development for researchers in East Africa while linking their scholarship to real-world impacts. Ayang was speaking at a recent conference in Nairobi, Kenya, organized by RVI and the OSUN Hubs for Connected Learning Initiatives, bringing together 16 early career scholars discussing the outcomes of their research.

Supported by OSUN and Carnegie Corporation, the RCoP is a community of practitioners and academics providing training, mentorship and dissemination of research for early career researchers based in countries in East Africa that are experiencing conflict. The six-month training program lets scholars apply their learning to practical research on topics of their choice in countries including South Sudan, Somalia, Somaliland, the Democratic Republic of Congo, and in Kakuma Refugee Camp in Kenya. It also gives them the opportunity to disseminate their findings to a public audience.

"Our aim is to produce a cohort of early career scholars who can actually build knowledge from below," said Geoffrey Lugano, Research Training Manager at Rift Valley Institute, in a video that RVI produced about the meeting.

The conference allowed researchers to receive feedback from their peers and mentors while networking with regional experts. Participants chose a variety of topics to study, including conflict, security and livelihoods, and challenges of forced displacement.

Many researchers reported that the skills they acquired from the project helped them to more confidently design and execute research projects. They also acknowledged that the RcoP project succeeded in connecting them with peers from the region, as well as more established academics, some of whom could serve as mentors.

"The impact (of the project) has been really huge," said Farhia Mohamud, an early career researcher from Somalia. "I can look back on today and realize that (my research) was from me and contributed to my country and also contributed to the region as a whole."

Hassan Guled, also from Somalia, said that program instructions about proposal development had provided him with positive results. Jean Bertand Kamoso, from Kakuma Refugee Camp in Kenya, said the RCoP training benefited him in three ways: allowing him to refine and expand his problem-solving skills, connecting him with other communities of researchers in different locations, and growing his critical thinking capacity.

Some researchers claimed that the training would contribute to bridging capacity gaps in their home institutions while others said that it inspired them to consider post-graduate training. However, some of the researchers based at Kakuma Refugee Camp said the end of the training left them in limbo, unsure of their immediate pathways and the utility of the research training.

Based on learnings gleaned from the conference, RVI is now preparing the next cohort of early career researchers, who will focus on climate change, mobility and gender, and how the intersections of these issues aggravate the suffering of communities in the Horn of Africa. RVI also continues to collaborate with the OSUN Hubs, with the goal of expanding this work to include other countries in the region.

Post Date: 06-05-2023
Ambitious and Motivated: Hope for Refugee Women in Higher Education
A version of this article was originally published on the Resilience Action International blog.

Tani Kuku is a diligent student in the Refugee Higher Education Access Program (RhEAP) offered by OSUN in partnership with Resilience Action International, a refugee-led organization based in Kenya. She was born and raised in Sudan. When she fled to Kenya, Kuku sought to start a new life in Kakuma Refugee Camp, as her future seemed promising. She continued her studies immediately after arriving and successfully completed primary school and secondary education. Ambitious and motivated, she desired a future that was brighter than her current situation, soldiering on to seek further opportunities to improve her qualifications and employability in the job market.

In 2021, Kuku enrolled in RhEAP, part of OSUN's Hubs for Connected Learning Initiatives, to get a certificate that could provide a pathway to taking undergraduate degree courses. Today, Kuku has completed three OSUN college preparatory courses and is hopeful she will be admitted into a degree course next year at one of the online schools she has applied to.

In addition, the communication skills and knowledge she has gained through courses on human rights, history, diversity and culture were instrumental in her obtaining a job as a social worker in a local community-based organization. Kuku has started advising young women in her community on the importance of education for every individual, especially young women and girls.

One thing motivating Kuku to talk to young women about pursuing higher education is the underwhelming number of women enrolled in the OSUN Hubs program. She says she has always wondered why she encountered so few young women at vocational learning centers. She decided to take it upon herself to urge young women in her community to join educational centers so they can equal their male counterparts in this area. If they are interested, young women could even proceed to higher levels of education, much like Kuku.

Due to her educational achievements, Kuku has become a living example to young women and schools in her neighborhood. The people in her home area are aware of her deep interest in coursework and that she has never skipped a class. And she is well known by facilitators at the Resilience Action International center for submitting assignments on time and encouraging her colleagues to not give up on their studies when they are met with obstacles–especially the young women in her class.

Kuku says the independence she now enjoys as an adult woman was made possible by the English skills she gained from OSUN preparatory courses, without which the language barrier would have kept her dependent on her family and most likely unemployed. She continues to keep focused on her dream of getting a degree in the near future. For the moment, that means two things: forging on with her studies until she gets admitted to her chosen university and inspiring more young women refugees to enroll in vocational training as one of the pathways to build their own futures. With encouragement coming from someone as dedicated as Kuku, the results should be quite promising.

Post Date: 02-05-2023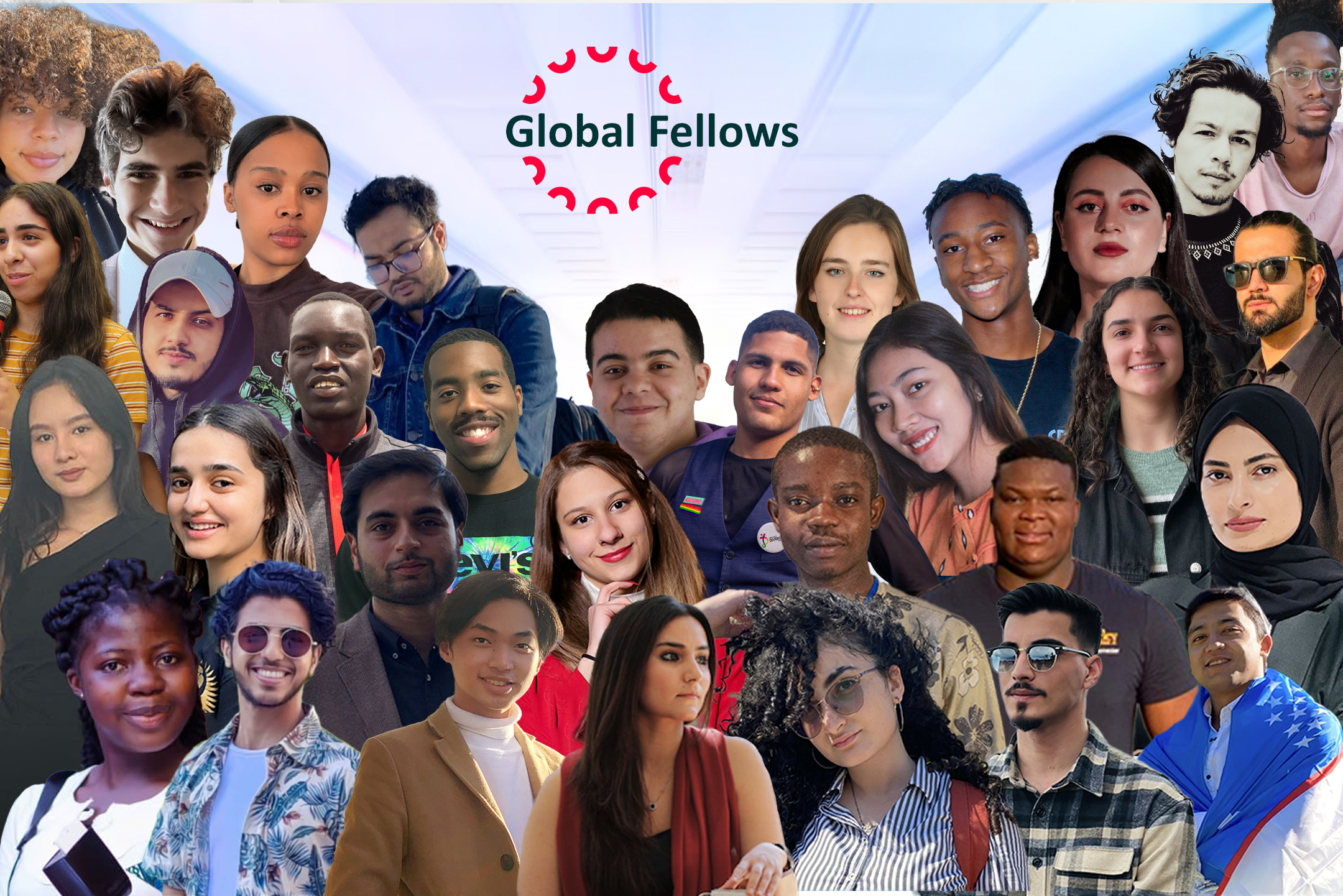 Meet the 2023/2024 OSUN Global Engagement Fellows
OSUN is proud to introduce the 2023/2024 cohort of its Global Engagement Fellows.

This year, 31 Fellows join the initiative from 17 different institutions across the network. Fellows hail from Al-Quds Bard College, American University of Afghanistan, American University of Beirut, American University of Bulgaria, American University of Central Asia, Ashesi University, Bard College Annandale, Bard College Berlin, Bard Early Colleges, BRAC University, Central European University, Fulbright University, Hubs for Connected Learning Initiatives, Parami University, Tuskegee University, University de los Andes, and University of Witwatersrand.

The Fellows support a total of seven civic engagement projects, including monthly Civic Engagement Workshops, the Global Engagement Fellows Annual Magazine, an ESL and mindfulness program for women in Afghanistan, on-campus office hours, a weekly well-being project, a youth mentorship project, and a podcast.

To learn more about what the Global Engagement Fellows do, and to read their bios and contact them, click here.

Post Date: 05-01-2023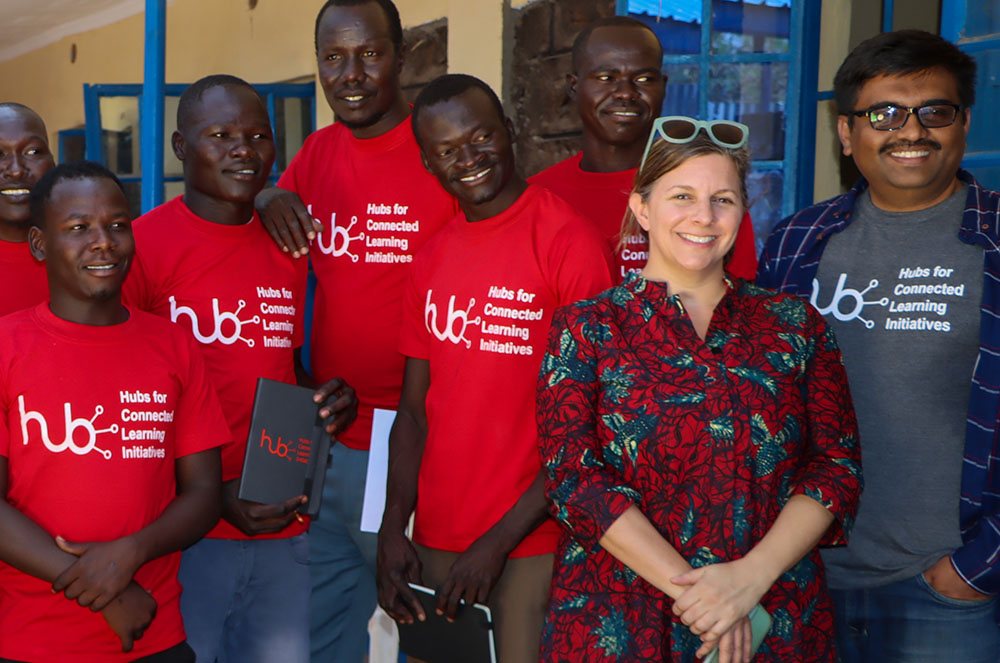 "Pathways and Pipelines": OSUN's Rebecca Granato Talks with CFR About Supporting Systematized Enrollment of Refugee Students
Speaking at a recent Council on Foreign Relations webinar, Rebecca Granato, director of OSUN Hubs for Connected Learning Initiatives, discussed the need for supporting systematized enrollment of refugee students into institutions of higher education. Noting that "primary and secondary education for refugees is most frequently treated as an emergency response," Granato outlined the impact that a more inclusive educational approach would have for displaced students.

"Between interrupted education and poor-quality opportunities in host countries, even the brightest youth often lack the necessary skills," she says. "Structures like those offered through the Open Society University Network are necessary to support these students, not only in moments of crisis, but throughout their educational journeys."

"We really need to create pathways and pipelines between different higher education institutions and programs," Granato says. "We need to include connected opportunities, scholarships in countries of first asylum, and also third-country opportunities so that students can move between degree possibilities, like any of us would, who want to get a higher education."

Watch the full CFR discussion on YouTube.

Post Date: 11-22-2022
Panel


Tuesday, November 28, 2023

Ad-Hoc Governance and Education: The Case of Rohingya Refugees in Bangladesh

9:00 am – 10:00 am

EST/GMT-5

9 AM New York l 3 PM Vienna

The OSUN Working Group on Refugees, Internally Displaced Persons (IDPs) and Host Community Education presents a panel discussion series on "Geographies and Temporalities of Higher Education for Displaced Students."

The next event in the series is a panel discussion on "Ad-Hoc Governance and Education: the Case of Rohingya Refugees in Bangladesh."

September 2023 marked the sixth year of the Rohingya refugee crisis, and throughout the preceding years, a steady and calculated securitization of the response has threatened and shrunk the space for refugee civic engagement and advocacy. Against the backdrop of informal structures and ad-hoc governance mechanisms, the future prospects for Rohingya refugees confined within the fenced camps in Cox's Bazar remain uncertain--their access to education hanging in the shrewd balance of tactical bureaucracy and deliberate repression.

The education sector has invariably faced the scourge of makeshift policy-making, ranging from the indisputable ban on using the Bangladeshi native language, Bangla, in the learning centres to the complete shutdown of Rohingya-led education initiatives within the camps. To the community, a proper education is highly revered, making the educated the most celebrated among them--a glimpse into why despite such pushback, the Rohingya community remains firm on their demand for better education for their young and future generations. Further, refugees have expressed their discontent with learning opportunities provided by humanitarians, adamant that education spaces should not only be safe, but also engaging, fruitful and cognizant of community morals and identities.

This panel explains the regulatory context of advancing education in the refugee camps from the past to present, aiming to shed light on the reactionary strategies adopted by stakeholders. Focusing on the understanding that education can be a pathway to a meaningful life, the panel explores the impact of restrictive policies on refugee aspirations, their coping mechanisms and shifting relationship with humanitarians and extended trust networks. Insights are gathered from a desk review of existing literature, key informant interviews and focus group discussions with humanitarians, journalists, researchers and refugees themselves, conducted to prepare a forthcoming report on ad-hoc governance by CPJ and the Asia Foundation.

Presenters

Samira Manzur, Junior Technical Officer, International Labor Organisation

Tasnia Khandaker Prova, Research Associate, Centre for Peace and Justice, BRAC University

Azizul Hoque, Research Associate, Centre for Peace and Justice, BRAC University

Moderator

M. Sanjeeb Hossain, Director, Research, Centre for Peace and Justice, BRAC University

Join via Zoom

November 28, 2023

9:00 am – 10:00 am

EST/GMT-5